Hypertension category listing has
134
items along with related searches

see also
Overview Cardiovascular and vitamin D
Overview Stroke and vitamin D
Incidence of 22 health problems related to vitamin D have doubled in a decade
160% increase in Hypertension in females/decade

Did you know?
A high blood level of vitamin D reduces the risk of both hypertension and pre-hypertension
Hypertension has been reduced somewhat by vitamin D monotherapy in 4+ random controlled trials
Hypertension is also reduced by Magnesium, Vitamin K, Omega-3, CO-Q10, and garlic
It appears that the above supplements can be used concurrently with Vitamin D to massively reduce hypertension
Hypertension is reduced even more in people having vitamin D health problems
Perhaps to Vitamin D gene limitations?
(More Hypertension info below)
Learn how Vitamin D is essential for good health
Watch a 5 minute video "Does Less Sun Mean more Disease?"
Browse for other Health Problems and D in left column or here
see also Supplementing and More in the menu at the top of every page
If you have a disease associated with low Vit D take Vit D
Raising your Vit D levels will substantially prevent other low-Vit D health problems
Often your specific health problem will also be treated
---
Review of Vitamin D and Hypertension - Sept 2017
Many trials using just Vitamin D are summarized - rarely showing any benefit
&nbspDownload the PDF from Vitamin D Life
---
Global review of Hypertension awareness and treatment - 2019
Long-term and recent trends in hypertension awareness, treatment, and control in 12 high-income countries: an analysis of 123 nationally representative surveys
&nbspDownload the PDF from Vitamin D Life
---
Hypertension Review by Vitamin D Council April 2014
Hypertension Review at Vitamin D Council April 2014
Worldwide, about 4 out of 10 people have hypertension.
In the United States, 1 out of every 3 adults has hypertension
Recent research: For each 10 ng/ml more vitamin D, 12% lower risk of developing hypertension.
Key points from the research
Research has shown that people with higher vitamin D levels are more likely to have lower blood pressure and are less likely to develop hypertension.
Studies have shown that taking a vitamin D supplement can reduce blood pressure in people with hypertension.
Some research has shown that taking a vitamin D supplement helps regulate the blood pressure system in the body.
However, not all trials show reduced blood pressure after taking vitamin D.
This means that we can't say for sure if vitamin D is a main factor in preventing hypertension or in lowering blood pressure.
---
Omega-3, Magnesium and Coenzyme Q10 may each be better than Vitamin D
---
See also Vitamin D Life
Far fewer heart problems for those with hypertension if they have > 15 ng of vitamin D
---
Vitamin D Proven to Work on 81 health problems: including Hypertension - Sept 2017
Proof that Vitamin D Works has 4 RCT proofs of Hypertension treatment

Hypertension reduction needs more than 4,000 IU of vitamin D for 6 months – RCT Oct 2014
Hypertension reduction sometimes needs more than 4,000 IU of vitamin D for 6 months – RCT Oct 2014 in Vitamin D Life
Clinical Trials: Hypertension and Vitamin D
Search hypertension, intervention, vitamin D 24 studies as of Jan 2015
Reduce Cardiac Damage 50,000 IU vitamin D every 2 weeks
Patients With Hypertension 3,000 IU daily for 6 weeks
2360 IU average reduced Systolic blood pressure in Clinical Trial - 2011
Role of vitamin d supplementation in hypertension.
by: R. K. Goel, Harbans Lal
Indian journal of clinical biochemistry : IJCB, Vol. 26, No. 1. (29 January 2011), pp. 88-90. doi:10.1007/s12291-010-0092-0 Key: citeulike:8626469
Role of Vitamin D supplementation was studied in patients with hypertension.
One hundred hypertensive patients (group I) were given conventional antihypertensive drugs while another 100 patients (group II), in addition, were supplemented with Vitamin D(3) (33,000 IU, after every 2 weeks, for 3 months).
Besides diastolic and systolic blood pressure, serum calcium, phosphorous, alkaline phosphatase, albumin, albumin-corrected calcium, and 24 h urinary creatinine levels were estimated in both the groups before the start of treatment and after 3 months.
Vitamin D supplementation showed a more significant decrease in systolic blood pressure.
This group also showed a significant increase in serum calcium as well as albumin-corrected calcium with a decrease in phosphorous.
Results of the study confirm that Vitamin D supplementation has a role in reducing blood pressure in hypertensive patients and that it should be supplemented with the antihypertensive drugs. More extensive studies with a larger group, to draw a definite conclusion, are in progress.
Prehypertension quickly becomes hypertension in blacks - Feb 2012
Prehypertension Feb 2012
Letter to the Editor: Prehypertension: To Treat or Not To Treat Should No Longer Be the Question
We read with great interest the article by Selassie et al1 that progression from prehypertension to full-blown hypertension occurs more rapidly in blacks, with 50% transitioning to hypertension within 1.7 years compared with 2.7 years in whites. Although the authors highlight the importance of controlling prehypertension, we feel that the authors missed an opportunity to stress the feasibility of using antihypertensive drugs to control prehypertension. As we argued previously,2 the recommendation by the Seventh Report of the Joint National Committee on Prevention, Detection, Evaluation, and Treatment of High Blood Pressure to treat prehypertension only with lifestyle changes3 is unlikely to work. Our view that prehypertension should be treated pharmacologically is supported by a recent meta-analysis of 16 trials involving 70664 patients.4 This analysis found that prehypertensive patients randomized to the active treatment arm had a 22% reduction in the risk of stroke as compared with the placebo group. In addition, treatment of prehypertension with an angiotensin receptor blocker reduced the risk of incident hypertension.5 Thus, the debate of whether to treat prehypertension should end. Treating prehypertension is medically sound and economically viable,2 and benefits of treatment are now apparent.
Shawn G. Kwatra, Wake Forest University School of Medicine, Winston-Salem, NC
Amanda E. Kiely, Department of Ophthalmology, The Johns Hopkins University School of Medicine, Baltimore, MD
Madan M. Kwatra, Department of Anesthesiology, Duke University Medical Center, Durham, NC
(Note from Vitamin D Life: Vitamin D reduces both hypertension and prehypertension)
Blood pressures not dropping at night associated with very low level of vitamin D – May 2012
Relationship between Vitamin D Deficiency and Nondipper Hypertension
Clinical and Experimental Hypertension May 17, 2012. (doi:10.3109/10641963.2012.689045)
Mehmet Demir drmehmetmd at gmail.co, Tufan Günay, Gökhan Özmen, Mehmet Melek
Cardiology Department, Bursa Yüksek ?htisas Education and Research Hospital, Bursa, Turkey
Nondipper hypertension is associated with increased cardiovascular morbidity and mortality. Vitamin D deficiency is associated with cardiovascular diseases such as coronary artery disease, heart failure, and hypertension. Vitamin D deficiency activates the renin–angiotensin–aldosterone system, which affects the cardiovascular system. For this reason, a relationship between vitamin D deficiency and nondipper hypertension could be suggested. In this study, we compared 25-OH vitamin D levels between dipper and nondipper hypertensive patients. The study included 80 hypertensive patients and they were divided into two groups: 50 dipper patients (29 male, mean age 51.5 ± 8 years) and 30 nondipper patients (17 male, mean age 50.6 ± 5.4 years). All the patients were subjected to transthoracic echocardiography and ambulatory 24-hour blood pressure monitoring. In addition to routine tests, 25-OH vitamin D and parathormone (PTH) levels were analyzed. All the patients received antihypertensive drug therapy for at least 3 months prior to the evaluations. 25-OH vitamin D and PTH levels were compared between the two groups. No statistically significant difference was found between the two groups in terms of basic characteristics.
The average PTH level of hypertensive dipper patients was lower than that of nondipper patients (65.3 ± 14.2 vs. 96.9 ± 30.8 pg/mL, P < .001).
The average 25-OH vitamin D level of hypertensive dipper patients was higher than that of nondipper patients (21.9 ± 7.4 vs. 12.8 ± 5.9 ng/mL, P = .001).
The left ventricular mass and left ventricular mass index were lower in the dipper patients than in the nondipper patients (186.5 ± 62.1 vs. 246.3 ± 85.3 g, P = .022; and 111.6 ± 21.2 vs.147 ± 25.7 g/m2, P < .001, respectively).
Other conventional echocardiographic parameters were similar between the two groups. Daytime systolic and diastolic blood pressure measurements were similar between dippers and nondippers, but there was a significant difference between the two groups with regard to nighttime measurements (nighttime systolic 118.5 ± 5.8 vs.130.2 ± 9.6 mm Hg, P < .001; and nighttime diastolic 69.3 ± 4.8 vs.78.1 ± 7.2 mm Hg, P < .001, respectively).
Our results suggest that vitamin D deficiency has a positive correlation with blood pressure and vitamin D deficiency could be related to nondipper hypertension. The measurement of vitamin D may be used to indicate increased risk of hypertension-related adverse cardiovascular events.
– – – – – – – – – – – – – – – –
Hypertension drop at night: 22 nanograms
Hypertension NOT drop at night: 13 nanograms
Wikipedia on Hypertension dipping at night - May 2012
Ambulatory blood pressure monitoring allows blood pressure to be intermittently monitored during sleep, and is useful to determine whether the patient is a dipper or non-dipper--that is to say whether or not blood pressure falls at night compared to daytime values. A nighttime fall is normal. It correlates with relationship depth but other factors such as sleep quality, age, hypertensive status, marital status, and social network support.[2] Absence of a night time dip is associated with poorer health outcomes, including increased mortality in one recent study.[3] In addition, nocturnal hypertension is associated with end organ damage[4] and is a much better indicator than the daytime blood pressure reading.
See also Vitamin D Life Hypertension which remains high (nondipper) is associated with low vitamin D – Sept 2017
---
Hypertension reduced 6.8 mmHg with 3,000 IU of vitamin D daily – RCT May 2012
VITAMIN D SUPPLEMENTATION DURING WINTER MONTHS REDUCES CENTRAL BLOOD PRESSURE IN PATIENTS WITH HYPERTENSION
22nd European Meeting on Hypertension and Cardiovascular Protection. April 2012, Oral 7A.02
T. Larsen1, F. Mose1, E. Pedersen 1, O. Aagaard 2.
I Department of Medical Research, Holstebro Hospital, Holstebro, Denmark,
2 Department of Medical Biochemistry, Holstebro Hospital, Holstebro, Denmark
Objective: In the northern hemisphere vitamin D deficiency is highly prevalent during winter months, and observational studies have associated hypertension with poor vitamin D status. We tested the hypothesis that vitamin D supplementation in the winter lowers blood pressure (BP) in patients with hypertension.
Design: Randomized, placebo-controlled, double-blind study.
Method: 130 patients with hypertension were randomized to a daily oral dose of 75 ug cholecalciferol or placebo for 20 weeks. The study population consisted of Caucasians residing in Denmark at the 56th northern latitude. Baseline examinations took place from October to November where cutaneous vitamin D synthesis is absent. Primary endpoints were 24-h ambulatory BP, pulse wave velocity (PWV) and central BP obtained by applanation tonometry. Other endpoints were p-25(OH)D, p-Ca++, p-iPTH and components of the renin-angiotensin system. Plasma concentrations of renin, angiotensin II and aldosterone were measured using RIAs. Data were analyzed using unpaired t-test and Mann-Whitney test when appropriate.
Results: 112 patients (mean age 61 ± 10) with a baseline p-25(OH)D of 57 ± 26 nmol/l completed the study. Compared with placebo, cholecalciferol caused a significant increase in p-25(OH)D (62 nmol/l, p < 0.001) and p-Ca++ (0.01 mmol/l, p < 0.05), and a significant suppression of p-PTH (0.97 pmol/l, p < 0.001). No significant differences were observed in 24-h ambulatory BP.
However, in patients with p-25(OH)D <75 nmol/l (n = 92), the cholecalciferol group showed a borderline reduction in both systolic BP (3.7 mmHg, p = 0.08) and diastolic BP (2.7 mmHg, p = 0.02) compared to placebo.
Furthermore, in all patients, central systolic and diastolic BP was reduced 6.8 mmHg (p = 0.007) and 1.7 mmHg (p = 0.15), respectively, compared to placebo. No statistically significant difference between groups was observed in pulse wave velocity.
Conclusion: In hypertensive Caucasians residing at the 56th northern latitude, 75 ug of cholecalciferol daily during winter months caused a significant reduction in central systolic blood pressure. In a sub-analysis of patients with p-25(OH)D <75 nmol/l, a marginal reduction in both systolic and diastolic 24-h ambulatory BP was observed.
---
Effect of Vitamin D Supplementation on Blood Pressure in Blacks - Clinical Trial June 2013
Effect of Vitamin D Supplementation on Blood Pressure in Blacks Hypertension Journal, Clinical Trial, June 2013
Trial lasted only 3 months.
No loading dose, so unlikely to get a good level of vitamin D until the final weeks of the trial
Still - 4,000 IU daily reduced systolic pressure −4.0 mm Hg in Blacks
---
Anti-hypertensive drug ==> 40% increase of serious fall injury
Are Blood Pressure Drugs Worth the Falls? NYT April 2014
more than 70 % of those over age 70 contend with high blood pressure
85% of Medicare patients with hypertension took at least one type of blood pressure drug
risk of serious fall injuries was significantly higher among those who took anti-hypertensives
study of 5,000 patients avg age 80
moderate users of hypertensives: serious fall injuries were 40 % higher
---
Preeclampsia during pregnancy associated with low vitamin D
Note: Preeclampsia= systolic blood pressure > 144mm and protein in urine
---
Hypertension increase may caused by Roundup
PERSONAL HEALTH Study Shows Dramatic Correlation Between GMOs And 22 Diseases Nov 2014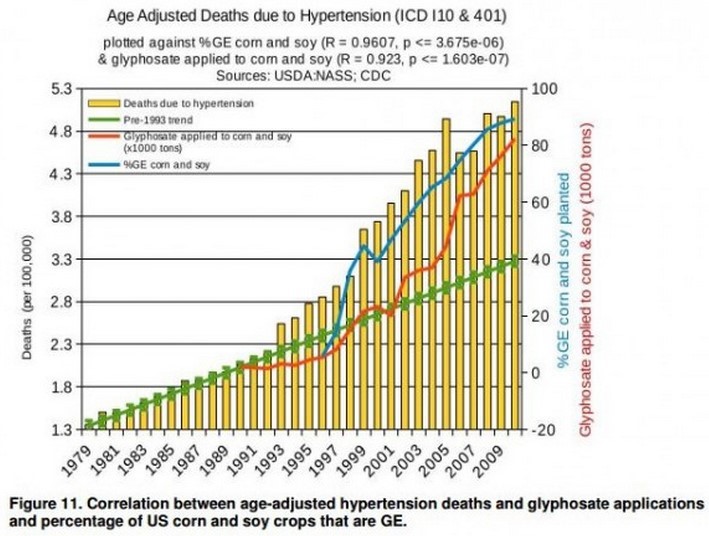 See also Vitamin D Life
Huge increases in health problems – risk factors include Vitamin D, Antibiotics, and Roundup
Investigation on Roundup - glyphosate at Vitamin D Life many charts
---
Hypertension genetic association with Vitamin D is < 10%
---
Probiotics - Hypertension
---
Garlic proven to be better than Atenolol - RCT 2013
Garlic Beats Best-Selling Blood Pressure Drug In New Study
| | | |
| --- | --- | --- |
| | start | 24th week |
| 1200 mg Garlic | 144 | 137 |
| 50/100 mg Atenolol | 148 | 139 |
---
Hypertension goals lowered 140/90 to 130/80 by two or 3 organizations Fall 2017
Under New Guidelines, Millions More Americans Will Need to Lower Blood Pressure New York times Nov 2017
"number of men under age 45 with a diagnosis of high blood pressure will triple"
"Nearly half of all American adults, and nearly 80 percent of those aged 65 and older, will find that they qualify and will need to take steps to reduce their blood pressure. "
Don't Let New Blood Pressure Guidelines Raise Yours New York Times
8% of those getting < 140 had heart problems vs only 6% of those < 120 = 25% less
Also " . . participants were required to be at higher-than-average risk for cardiovascular events? That means the benefit for average patients would be even smaller."
Also - blood pressure measurements need to be taken 5 minutes after sitting down - if not it may be artificially high
Author is also the author of "Less Medicine, More Health: 7 Assumptions That Drive Too Much Medical Care."
Note: Pre-hypertension = 120-139 / 80-89))
Prehypertension 48 percent more likely with low vitamin D – Sept 2011
Hypertension goals of ADA and ACC/AHA differ - March 2018
American Diabetes Association
140/90 for most diabetics - but lower for some individuals
American College of Cardiology
American Heart Association
130/80
&nbspDownload the PDF from Vitamin D Life
---
Hypertention starts at different ages: 40, 50, 60, 70 - 2018
Trajectories of Blood Pressure Elevation Preceding Hypertension Onset: An Analysis of the Framingham Heart Study Original Cohort
| | |
| --- | --- |
| mm Hg | Age |
| 123 | 40 to 49 years |
| 122 | 50 and 59 years |
| 125 | 60 and 69 years |
| 121 | 70 and 79 years |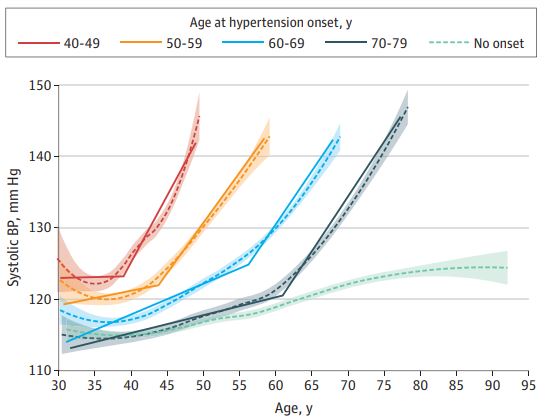 Note: the stated ranges do not agree with the chart inflection points
Wonder if the increase in hypertension at various ages has any relationship to changes in:
Vitamin D
Magnesium
Diet
Diabetes
Stroke
Cardiovascular disease
&nbspDownload the PDF from Vitamin D Life
---
Arterial stiffness reduced after just 6 weeks of a Mitochondrial Antioxidant (MitoQ) - RCT May 2018
See also
---
From The Body by Bill Bryson, 2019
Well into the twentieth century, many medical authorities believed that high blood pressure was a good thing because it indicated vigorous flow.
---
Hypertension reduced by Potassium