There are many indications that vitamin D both PREVENTS and TREATS TB
As with many other diseases, Vitamin D Life expects that there will be a at least a 4X range of vitamin D due to:

4X range in the response in the vitamin D blood level for the same IU dose - for healthy, non-obese, people

Also expect that co-factors and Vitamin D Receptor activators will prove to be very important
UV appears to be as powerful or perhaps more powerful than vitamin D in TREATING TB
TB and vitamin D
107
items
---
See also Vitamin D Life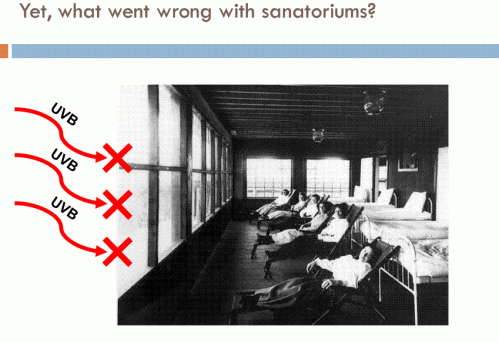 Items in both categories TB and Intervention are listed here:

Pages listed in BOTH of the categoriesTB and Genetics
---
See also web
TB and HIV Deaths Gapminder 4 million deaths/year in Nigeria

The lung microbiome, vitamin D, and the tuberculous granuloma: A balance triangle June 2019 10.1016/j.micpath.2019.03.041
Blacks born in Africa and moved to US had 27X higher rate of TB than people born in the US 2000-2009
Clinical Trials: Tuberculosis AND "Vitamin D"

INTERVENTION

24 trials Jan 2017
Vitamin D Suplementation in TB Prevention Started Oct 2014
Using just 28,000 IU of vitamin D every 2 weeks (which is too little), 2800 children, 5 year study,
same dose for those weighing 50 lbs and those who weigh 150 lbs - dose should be proportional to weight
Pulmonary Tuberculosis and Vitamin D -

60,000 IU weekly

with Calcium
A Clinical Trial to Study the Effect of the Addition of Vitamin D to Conventional Treatment in New Pulmonary Tuberculosis Patients

100,000 IU single dose

TB - World Health Organization

TB is one of the top 10 causes of death worldwide.
In 2017, 10 million people fell ill with TB, and 1.6 million died from the disease
558 000 new cases with resistance to rifampicin – the most effective first-line drug, of which - 82% had MDR-TB.
People infected with TB bacteria have a 5–15% lifetime risk of falling ill with TB.
However, persons with compromised immune systems, such as people living with HIV, malnutrition or diabetes, or people who use tobacco, have a much higher risk of falling ill.

Note by VItaminDWiki - all of the risk factors are associated with lower levels of VItaminD

Vitamin D accelerates resolution of inflammatory responses during tuberculosis treatment PNAS Sept 2012
abstract describes vitamin D intervention clinical trial, details are behind a paywall
those who were taking vitamin D, taking an average of 23 days to become undetectable under the microscope
compared to 36 days in the patients who were taking the placebo.
Vitamin D status and incidence of pulmonary tuberculosis, opportunistic infections, and wasting among Tanzanian adults initiating antiretroviral therapy Nov 2012
Puliminary TB 2.9X more likely if < 20ng of vitamin D
What's the Biggest World Pandemic Risk Today—Untreatable by Conventional Medicine? Sept 2012 Alliance for National Health
TB is second only to HIV as the leading infectious killer of adults worldwide
TB is the third largest cause of death among women aged 15 to 44.
Conventional medicine is panicking because TB is becoming resistant to multiple drugs and fear it may become "virtually untreatable."
25-Hydroxyvitamin D levels after recovery from tuberculosis: Insights into pathogenesis. Nov 2013
People with prior TB had 25 ng of vitamin D, vs controls had 33 ng.
8 ng lower of dark skin, 9 ng lower if winter
Association of vitamin D receptor BsmI gene polymorphism with risk of tuberculosis: a meta-analysis of 15 studies June 2013
BSML reduces risk of TB, pdf attached at the bottom of this page
TB cases increase in U.S. for first time in 23 years Washington Post March 2016
Nothing about vitamin D. Asian TB 280, whites TB 40 per million
No mention of darker skin and TB
TB patients low on Vitamins D, A, and E - Nov 2016
Evaluation of Vitamin Status in Patients with Pulmonary Tuberculosis
Publisher wants $36 for the PDF
Addressing the Tuberculosis Epidemic 21st Century Research for an Ancient Disease JAMA Sept 2018
"More than 1 billion people died from TB during the last 200 years,
more deaths than from malaria, influenza, smallpox, HIV/AIDS, cholera, and plague combined"
The words UV, Sun, or Vitamin D do not occur once in the JAMA article
---
A. Martineau: TB and Vitamin D
Search Vitamin D Life for Martineau 491 items as of June 2019
The role of vitamin D in tuberculosis pathogenesis and treatment April 2014
A. Martineau, presented at 16th International Congress on Infectious Diseases - abstract-only online
32% of people are infected with TB
Vitamin D was used to treat TB in the pre-antibiotic era, and its active metabolite,
1,25-dihydoxyvitamin D, has long been known to enhance the immune response to mycobacteria in vitro.
Vitamin D deficiency is common in patients with active TB,
A. Martineau organized the Vitamin D conference in England - April 23-25 2014
Vitamin D and tuberculosis: more effective in prevention than treatment?
Int J Tuberc Lung Dis. 2015 Aug;19(8):876-7. doi: 10.5588/ijtld.15.0506.
Davies PD1, Martineau AR2. text not available for 6 months (Jan 2016)
---
TB arrested by cod-liver oil (containing vitamin D) in
1848

was 3X better than other treatments at the time

CLICK HERE if registered (free) for updated analysis of the 1848 study
---
Vitamin D Receptor ApaI Gene Polymorphism and Tuberculosis Susceptibility: A Meta-Analysis (Feb 2014)
Genet Test Mol Biomarkers. 2014 Feb 26.
Areeshi MY1, Mandal RK, Panda AK, Haque S.
Aim: Vitamin D performs its actions through the vitamin D receptor (VDR), which acts as a transcriptional factor. Many case-control studies have been performed in the past to elucidate the association of the ApaI polymorphism of VDR gene and the risk of tuberculosis (TB). However, these studies have shown inconsistent and conflicting results. In the present study, a meta-analysis was performed to investigate the potential relationship between the VDR ApaI gene polymorphism and the risk of TB.
Methodology: A quantitative synthesis was performed for the published studies based on the association between the VDR ApaI gene polymorphism and the risk of TB retrieved from PubMed (Medline) and EMBASE web databases. A meta-analysis was performed, and pooled odds ratios (ORs) and 95% confidence intervals (95% CIs) were calculated for all the genetic models.
Results: We observed a decreased risk of TB in allelic contrast (a vs. A: p=0.009; OR=0.869, 95% CI=0.782 to 0.965), homozygous (aa vs. AA: p=0.006; OR=0.724, 95% CI=0.575 to 0.910), and heterozygous (aA vs. AA: p=0.698; OR=0.948, 95% CI=0.722 to 1.243) comparisons. Similarly, dominant (aa+Aa vs. AA: p=0.032; OR=0.842, 95% CI=0.720 to 0.985) and recessive (aa vs. AA+Aa: p=0.027; OR=0.796, 95% CI=0.650 to 0.975) models also demonstrated a decreased risk of TB, whereas a heterozygous genotype (Aa vs. AA: p=0.109; OR=0.873, 95% CI=0.740 to 1.030) did not indicate any association with the risk of TB. There was no evidence of publication bias and heterogeneity test.
Conclusions: This meta-analysis suggests that ApaI polymorphism of the VDR gene is significantly associated with a decreased risk of TB. However, future larger studies with groups of populations are warranted to analyze this association.
PMID: 24571812
---
Tuberculosis & Interleukin-32 – patent applied for – Aug 2014
Tuberculosis is controlled by Interleukin-32 when it has enough Vitamin D – patent applied for – Aug 2014
---
Vitamin D, cod liver oil, sunshine, and phototherapy: Safe, effective and forgotten tools for treating and curing TB -March 2018
Vitamin D, cod liver oil, sunshine, and phototherapy: Safe, effective and forgotten tools for treating and curing tuberculosis infections - A comprehensive review.
J Steroid Biochem Mol Biol. 2018 Mar;177:21-29. doi: 10.1016/j.jsbmb.2017.07.027. Epub 2017 Jul 26.
PDF is available free at Sci-Hub 10.1016/j.jsbmb.2017.07.027
McCullough PJ1, Lehrer DS2.
1 Summit Behavioral Healthcare, Ohio Department of Mental Health and Addiction Services, Cincinnati, OH, 45237, USA; Department of Psychiatry, Wright State University Boonshoft School of Medicine, Dayton, OH, 45435, USA. Electronic address: patrick.mccullough at mha.ohio.gov.
2 Summit Behavioral Healthcare, Ohio Department of Mental Health and Addiction Services, Cincinnati, OH, 45237, USA; Department of Psychiatry, Wright State University Boonshoft School of Medicine, Dayton, OH, 45435, USA.
Tuberculosis remains an epidemic throughout the world, with over 2 billion people, or more than one third of the world's population, infected with TB. In 2015, there were an estimated 10.4 million new cases of tuberculosis, and 1.8 million deaths, making TB one of the top ten causes of death worldwide. Approximately 95% of new TB cases occur in developing countries, where the costs of treatment force many patients and their families into poverty. The United Nations and the World Health Organization are working to end this global epidemic.
Historically,
cod liver oil in the 1840's,
phototherapy in the 1890's,
sunshine in the 1890's and 1930's,
oral vitamin D in doses of 100,000-150,000 international units a day the 1940's, and
injectable vitamin D in the 1940's
were all shown to be able to safely treat tuberculosis.
However, for reasons that are unclear, these treatments are no longer being used to treat tuberculosis. We will review several reports that documented the clinical efficacy of these seemingly disparate treatments in treating tuberculosis. Taken together, however, these reports show the consistent efficacy of vitamin D in treating tuberculosis infections, regardless of whether the vitamin D was produced in the skin from the effects of phototherapy or sunshine, taken orally as a pill or in cod-liver oil, or put into solution and injected directly into the body. We will discuss how vitamin D, through its action as a steroid hormone that regulates gene transcription in cells and tissues throughout the body, enables the body to eradicate TB by stimulating the formation of a natural antibiotic in white blood cells, the mechanism of which was discovered in 2006. We will speculate as to why vitamin D, cod liver oil, sunshine, and phototherapy are no longer being used to treat tuberculosis, in spite of their proven efficacy in safely treating this disease dating back to the early 1800's. In fact, in 1903 the Nobel Prize in Medicine or Physiology was awarded to a physician who was able to cure hundreds of cases of long-standing lupus vulgaris (cutaneous TB) with refracted light rays from an electric arc lamp. Vitamin D, cod liver oil, sunshine, and phototherapy have never been shown to lose their ability to safely eradicate tuberculosis infections, and deserve consideration to be re-examined as first-line treatments for tuberculosis. These treatments have the potential to help cost-effectively and safely end the global TB epidemic.
---
TB Factoids from The Body, by Bill Bryson, 2019
Leprosy, plague, tuberculosis, typhus, diphtheria, measles, influenzas—all vaulted from goats and pigs and cows and the like straight into us.
Ttuberculosis is today the deadliest infectious disease on the planet. Between 1.5 and 2 million people die of it every year.
About one in every three people on the planet carries the TB bacterium, but only a small proportion of those contract the disease.
Drug-resistant strains of TB now account for 10 percent of new cases.