Did you know?
Large doses of vitamin D reduced CFS/Fibromyalgia in > 10 studies
Many books and online forums recommend vitamin D for CFS/Fibromyalgia
Vitamin D also reduces a wide variety of pains
(More Fibromyalgia/CFS info below)
Learn how Vitamin D is essential for good health
Watch a 5 minute video "Does Less Sun Mean more Disease?"
Browse for other Health Problems and D in left column or here
see also Supplementing and More in the menu at the top of every page
If you have a disease associated with low Vit D take Vit D
Raising your Vit D levels will substantially prevent other low-Vit D health problems
Often your specific health problem will also be treated
Vitamin D Levels can be restored quickly within a week with a loading dose.

With a loading dose you will probably feel the benefits in a week.

A Vitamin D test is generally NOT required before having a loading dose.
If you don't feel better within 2 weeks you do not need to continue taking vitamin D for CFS/ME/Fibromyalgia.
When stopped, your body will naturally reduce eliminate any excess vitamin D within 2 months.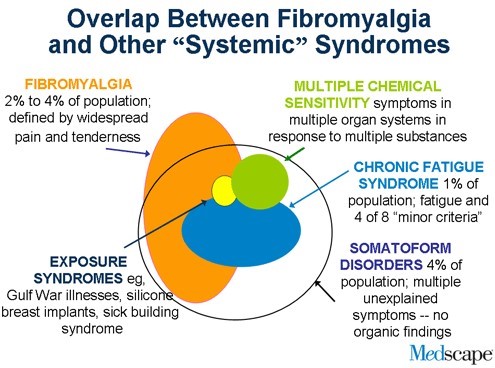 Source of above chart = Medscape
FibroGuide - easy introduction to Fibromyalgia featured on MedScape
Fibromyalgia is the second most common condition affecting your bones and muscles. WebMd 2017
huge resource, nothing about Vitamin D
See also Vitamin D Life - Fatigue
See also Vitamin D Life - Fibromyalgia
---
German web site and book – relief in 1 week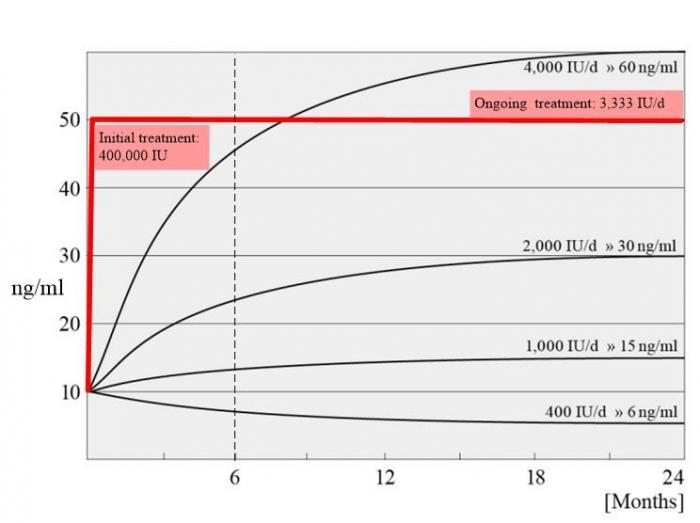 Case studies in book include: Back and leg pain, Chronic fatigue, Lethargy, Fatigue, Exhaustion, Neck pain, Emergency relief from exhaustion, .
---
4 Vitamin D books with sections on Chronic Pain/ Fibromyalgia
The Vitamin D Solution: CFS on pages 4,12,67 Fibromyalgia 4, 6, 12, 65-68
The Vitamin D Cure: Chronic pain and Fibromyalgia pg 133-136
Power of Vitamin D: contained in chapter pg 25-34 available as an e-book for $5
Vitamin D Prescription: Fibromyalgia on pages 4, 20-23, 80-84, 171, 185, 198-199
Loading Dose of Vitamin D
Overview Loading of vitamin D
Check that you are not allergic to vitamin D by trying a small amount - say 1,000 IU and seeing any reactions (only about 1 in 300 people are)
The brand vitamin D with the least amount of additives and no reported bad reactions is Bio-Tech - which also is the highest rated brand on Amazon
Of the few people with reactions to vitamin D, many appear to be deficient in Magnesium - Magnesium Chloride is a good supplement
A typical loading dose in 400,000 IU - can be, for example, be achieved by 50,000 IU capsules once a day for 8 days.
After loading dose just one tiny capsule every 2 weeks
---
See also Vitamin D Life - related topics
Inflammation category
135
items
Depression category
215
items
Headache category
34
items
Hypothesis of Autoimmunity which includes Barr Virus and Vitamin D Deficiency – 2012
Chronic Fatigue Syndrome was called Epstine Barr Virus before 1988
All items in category Chronic Pain
137
items

---

Fibromyalgia worse if low vitamin D – June 2020

Association Between Low Vitamin D Levels and the Greater Impact of Fibromyalgia
J Clin Med Res. 2020 Jul;12(7):436-442. doi: 10.14740/jocmr4136
Susyane Ribeiro Beserra 1, Fabiola Isabel Suano Souza 1, Roseli Oselka Saccardo Sarni 1, Myllena Maria de Morais Pereira 2
&nbspDownload the PDF from Vitamin D Life

Background: Fibromyalgia (FM) is a clinical syndrome mainly characterized by generalized chronic pain, fatigue, sleep and cognition disorders. The role played by vitamin D in the pathophysiology of painful syndromes is poorly known. Studies assessing the association between vitamin D and FM have presented conflicting results. The aims of the current study were to assess vitamin D levels in FM patients, by comparing them to healthy controls, as well as to analyze their impact on this disease.

Methods: This was a cross-sectional study comprising 43 FM patients (ACR 2010 criteria) and 40 healthy individuals. All participants had their vitamin D levels measured, and FM patients also had their total calcium, albumin, phosphorus and parathyroid hormone (PTH) measured. Clinical variables capable of affecting the results were evaluated and the fibromyalgia impact questionnaire (FIQ) was applied.

Results: There was not statistically significant difference in global mean values of vitamin D between groups. In the total sample, only 4.8% of the individuals had vitamin D deficiency, which corresponded to the deficiency found in the group of patients; in the control, no one had vitamin deficiency; 39.8% had insufficient levels and 55.4% with sufficient levels. The mean serum vitamin D values were similar between the FM and control groups (34.8 ± 12 and 34.7 ± 12.3 ng/mL, respectively; P = 0.806). However, a significant negative correlation was found between vitamin D concentration and FIQ values, that is, patients with the greatest impact of the disease had lower concentrations of vitamin D (P = 0.018).

Conclusion: FM patients did not present higher prevalence of vitamin D deficiency or insufficiency than healthy individuals, although low vitamin D concentrations could indicate more severe disease impacts.

Clipped from PDF
"…"fibromyalgia impact questionnaire (FIQ), which comprised questions organized in 10 different items focused on investigating about participants' functional capacity, professional status, psychological disorders and physical symptoms."

---

See also pubmed - CFS, Fibromyalgia and Vitamin D

Search for (fibromyalgia OR "Chronic Fatigue") "vitamin d" 89 items as of Aug 2019

---

See also web - CFS, Fibromyalgia

Fibromyalgia is a disorder of unknown etiology characterized by widespread pain, abnormal pain processing, sleep disturbance, fatigue and often psychological distress.
People with fibromyalgia may also have other symptoms; such as:Morning stiffness, Tingling or numbness in hands and feet, Headaches, including migraines, Irritable bowel syndrome, Sleep disturbances, Cognitive problems with thinking and memory (sometimes called "fibro fog"), Painful menstrual periods and other pain syndromes
Fibromyalgia often co-occurs (up to 25-65%) with other rheumatic conditions such as rheumatoid arthritis (RA), systemic lupus erythematosus (SLE), and ankylosing spondylitis (AS).
Prevalence 3.4% women, 0.5% men - averaged over all ages - increases with age
Working age women with fibromyalgia hospitalized for occupational musculoskeletal disorders were almost 10 times less likely to return to work
Causes and/or risk factors for fibromyalgia are unknown, but some things have been loosely associated with disease onset:
Stressful or traumatic events, Repetitive injuries, Illness (e.g. viral infections), Certain diseases (i.e., SLE, RA, chronic fatigue syndrome), Genetic predisposition, Obesity
Note by Vitamin D Life: most of these are associated with a decrease in vitamin D levels
Effect of Correction of Low Vitamin D in Fatigue Study (EViDiF Study) Aug 2014
Full free text online. 50,000 IU of D2 3 times per week for 5 weeks got 96% of subjects > 30 ng. Total fatigue scores dropped from 33 down to 11
same study described at Vitamin D Council free
A Primer on Chronic Fatigue Syndrome GreenMedInfo Jan 2015
Mentions Vitamin D
Hope for Chronic Fatigue Syndrome SLATE Nov 2015
"And the hallmark symptom of the illness is that exertion can make patients much, much worse"
". . . the National Institutes of Health spends $5 million to $6 million a year on a disease that affects a million Americans. (For comparison, about the same number of people with HIV/AIDS, which receives $3 billion in NIH funding.)"
article describes major shortcommings of the previous PCE trial
ME isn't just 'exercise phobia': it's a physical illness Nov 2015
People die of Myalgic Encephalomyelitis (ME) when PCE type techniquies are used.
74 per cent of ME patients are harmed by the therapy

---

MedScape set of articles on CFS/ Fibromyalgia 2014-2015

Fibromyalgia description - diagnosis takes many years

Fibromyalgia - Burden of disease and disability and how it changed History by drdoc on-line


Fibromyalgia pain worse than labor pain

Pain Medical Musing from a 1988 book


If gut problems & Fibro - may need a different form of Vitamin D

Standard Vitamin D is not absorbed well in poorly functioning guts (IBS, etc)
There are many different "gut friendly" forms of vitamin D
Vitamin D injection is far better than oral for diabetics (poor gut) – RCT March 2017

Nice body chart by Dr. Carey

Fibromyalgia and Vitamin D Don't Get Misdiagnosed
Fibromyalgia and Vitamin D Deficiency very often have COMPLETELY IDENTICAL symptoms.
Large numbers of people have been misdiagnosed with Fibromyalgia when they simply have Vitamin D Deficiency- don't be one of them.


Chronic Fatigue Syndrome associated with different gut bacteria

---

5 Common Causes of Chronic Fatigue - Sept 2018

5 Common Causes of Chronic Fatigue and Tests That Help Reveal The Cause Self Hacked
1) Anemia: Iron Deficiency, Vitamin B12 Deficiency, Folate (Vitamin B9) Deficiency
Overview Iron Supplements and Vitamin D
Vitamin B12
2) Poor Thyroid Function (Hypothyroidism)
Thyroid and vitamin D are the only body components which have a receptor on every cell in the body
Hypothyroidism risk reduced 32 percent in those getting vitamin D levels above 50 ng – Oct 2017
The Role of Vitamin D in Thyroid Diseases – Sept 2017
3) Vitamin D Deficiency
4) Poor Liver Function
5) Low Testosterone Levels

---

Magnesium and Fibromyalgia - a few PubMed studies

Fibromyalgia and nutrition: Therapeutic possibilities? July 2018 (Magnesium) 10.1016/j.biopha.2018.04.056
amino acids, magnesium, selenium, vitamins B and D
Effects of transdermal magnesium chloride on quality of life for patients with fibromyalgia: a feasibility study Sept 2016 doi: 10.1016/S2095-4964(15)60195-9
Is magnesium citrate treatment effective on pain, clinical parameters and functional status in patients with fibromyalgia? Jan 2013 10.1007/s00296-011-2334-8
"The magnesium citrate treatment (300 mg/day) was only effective tender points and the intensity of fibromyalgia. However, it was effective on all parameters when used in combination with amitriptyline."

Short url = http://is.gd/fibrovitd

This page is in the following categories (# of items in each category)

| ID | Name | Comment | Uploaded | Size | Downloads | |
| --- | --- | --- | --- | --- | --- | --- |
| 14035 | Impact of Fibromyalgia.pdf | PDF 2020 | admin 14 Jul, 2020 13:16 | 420.28 Kb | 142 | |
| 6197 | Fibro Easy.jpg | | admin 30 Nov, 2015 03:05 | 75.09 Kb | 38475 | |
| 5032 | Beyond CFS - IOM Feb 2015.pdf | PDF 2015 | admin 10 Feb, 2015 19:16 | 589.27 Kb | 1784 | |
| 4857 | Pain level.jpg | | admin 11 Jan, 2015 15:47 | 49.55 Kb | 25596 | |
| 4856 | Diganosis delay.jpg | | admin 11 Jan, 2015 14:38 | 58.53 Kb | 26534 | |
| 4462 | Fibomyalgia.jpg | | admin 08 Oct, 2014 11:54 | 69.87 Kb | 29861 | |
| 4301 | Overlap.jpg | | admin 20 Aug, 2014 12:04 | 61.41 Kb | 53568 | |
| 4300 | Like me symptoms.jpg | | admin 20 Aug, 2014 11:58 | 30.29 Kb | 26639 | |
| 4299 | Fibro survey comparison.jpg | | admin 20 Aug, 2014 11:17 | 45.43 Kb | 31757 | |
| 75 | Patients Like Me Fibro.gif | Patients Like Me CFS | admin 10 Jun, 2010 02:44 | 28.17 Kb | 8419 | |