Apparently: Stains ==> less cholesterol ==> less pre-vitamin D ==> less vitamin D from sun

---
14% of UK adults are taking statins - new Statin Nation book 2018
Alternative take on statins, fat and cholesterol is an intriguing read
A Statin Nation: Damaging millions in a brave new post-health world Dec 2018
Previous book with same title by another author Statin Nation: The Ill-Founded War on Cholesterol, What Really Causes Heart Disease, and the Truth About the Most Overprescribed Drugs in the World
---
Vitamin D blocked the simvastatin decline in exercise performance - RCT Dec 2017
Vitamin D supplementation improves simvastatin-mediated decline in exercise performance: A randomized double-blind placebo-controlled study.
J Diabetes. 2017 Dec;9(12):1100-1106. doi: 10.1111/1753-0407.12541. Epub 2017 Jun 28.
Singla M1, Rastogi A1, Aggarwal AN2, Bhat OM3, Badal D4, Bhansali A1.
Vitamin D Life
Three arms of Randomized Controlled 12 week trial with T2DM
Cardiorespiratory fitness
Muscle mitochondrial content
40 mg daily, simvastatin
-8.4%
-3.6%
40 mg daily, simvastatin
+ 60,000 IU Vitamin D weekly
-0.6%
+7.1%
60,000 IU Vitamin D weekly
+16.7%

BACKGROUND:
The aim of the present study was to determine the effect of vitamin D supplementation on simvastatin-mediated changes in cardiorespiratory fitness and skeletal muscle mitochondrial content after exercise in adults with type 2 diabetes mellitus (T2DM).
METHODS:
Vitamin D-deficient T2DM patients aged 25-50 years performed moderate intensity aerobic exercise for 12 weeks and were randomized to receive simvastatin 40 mg daily plus vitamin D 60 000 units once weekly, or vitamin D 60 000 units once weekly. The primary outcomes were cardiorespiratory fitness (peak oxygen consumption) and skeletal muscle mitochondrial content (citrate synthase activity in the vastus lateralis) following simvastatin and/or vitamin D replacement therapy.
RESULTS:
Twenty-eight patients completed the study. C decreased by 8.4% (P < 0.05) following 12 weeks of simvastatin therapy. Vitamin D supplementation blunted the decline in cardiorespiratory fitness to 0.6% (P < 0.05 for between-group difference in change from baseline).
Similarly, skeletal muscle mitochondrial content decreased by 3.6% with simvastatin, but improved by 12.1% on supplementation with vitamin D, although the between-group difference was not significant. Vitamin D alone increased cardiorespiratory fitness and mitochondrial content by 7.1% (P < 0.05) and 16.7%, respectively.
CONCLUSIONS:
Simvastatin tends to cause deterioration in exercise-associated cardiorespiratory fitness and skeletal muscle mitochondrial content in adults with T2DM, which is blunted by vitamin D supplementation.
---
People taking statins has 1.5 ng more Vitamin D (after adjustment) - July 2020
The Effect of Statins on Serum Vitamin D Concentrations Among Older Adults
Cureus. 2020 Jul 1;12(7):e8950. doi: 10.7759/cureus.8950.
Carlos H Orces 1, Martha Montalvan 2 3 4, Daniel Tettamanti 5 6 7
Background Randomized and observational studies have previously reported inconsistent results for the direct association between statin therapy and 25, hydroxyvitamin D [25(OH)D] levels. Thus, the present study aimed to examine the relationship between statin use and 25(OH)D and its metabolites concentrations in a large nationally representative sample of older adults.
Methods This study was conducted using data from the National Health and Nutrition Examination Survey. Participants were asked to show the medication containers of all the products used in the previous 30 days, and the prescription of statins was defined on the three-level nested therapeutic classification scheme of Cerner Multum's Lexicon. General linear models adjusted for potential confounders were created to compare 25(OH)D concentrations between older adults taking statins and those who did not.
Results A total of 6,261 participants with a mean age of 69.5 years comprised the study sample. Of those, 40.2% were taking statins with a median length of therapy of 5 years. Adjusted mean 25(OH)D3 and 25(OH)D levels were 3.3 and 4.4 nmol/L higher among participants taking statins than those who did not, respectively. Moreover, this association was consistently seen regardless of the duration of therapy and particularly in subjects taking simvastatin, atorvastatin, or rosuvastatin. In subgroup analyses according to BMI categories and vitamin D intake, higher 25(OH)D levels were also seen among statin users. By contrast, this association was attenuated among those with a daily vitamin D between 400 and 800 and >800 IU.
Conclusion Older adults on statin therapy had significantly higher serum 25(OH)D concentrations. Additional research should be conducted to define the mechanism of this association and determine if the pleiotropic effects attributed to statins may be mediated by vitamin D.
---
See also Vitamin D Life
Statin intolerance reduced as level of vitamin D is raised - July 2015
about 53% no longer statin intolerant if > 30ng of vitamin D
about 90% no longer statin intolerant if 54 ng of vitamin D
&nbspDownload a letter to the editor from Vitamin D Life
Effects of vitamin D supplementation on adherence to and persistence with long-term statin therapy: Secondary analysis from the randomized, double-blind, placebo-controlled ViDA study.- July 2018
Impact of vitamin D status on statin-induced myopathy. free PDF doi: 10.1016/j.jcte.2016.11.002 Dec 2016
Statin Use and 25-Hydroxyvitamin D Blood Level Response to Vitamin D Treatment of Older Adults.- June 2017
Is there really a relationship between serum vitamin D (25OHD) levels and the musculoskeletal pain associated with statin intake? A systematic review. April 2016 full free text
Safety of 50,000-100,000 Units of Vitamin D3/Week in Vitamin D-Deficient, Hypercholesterolemic Patients with Reversible Statin Intolerance. March 2016 full free text
Simvastatin and vitamin D for migraine prevention: A randomized, controlled trial. Dec 2015
Statin Intolerance Because of Myalgia, Myositis, Myopathy, or Myonecrosis Can in Most Cases be Safely Resolved by Vitamin D Supplementation. March 2015 full free text
Do women with statin-related myalgias have low vitamin D levels? Sept 2015 full free text
Low plasma vitamin D levels and muscle-related adverse effects in statin users.Jan 2014 full free text
The association between drugs frequently used by the elderly and vitamin D blood levels: a review of observational and experimental studies.Feb 2014
Vitamin D3 effects on lipids differ in statin and non-statin-treated humans: superiority of free 25-OH D levels in detecting relationships Sept 2013
Effect of simvastatin/ezetimibe 10/10 mg versus simvastatin 40 mg on serum vitamin D levels. May 2013
Cardiovascular disease, statins and vitamin D. Feb 2012
21% less vitamin D in those taking statins - 3 RCT Feb 2017
Statin Use and 25-Hydroxyvitamin D Blood Level Response to Vitamin D Treatment of Older Adults.
J Am Geriatr Soc. 2017 Feb 27. doi: 10.1111/jgs.14784. Epub ahead of print
Bischoff-Ferrari HA1,2, Fischer K1,2, Orav EJ3, Dawson-Hughes B4, Meyer U1,2, Chocano-Bedoya PO1,2, Meyer OW1,2, Ernst R1,2, Schietzel S1,2, Eberli F5, Staehelin HB6, Freystätter G1,2, Roas S1, Theiler R1,2, Egli A1,2, Wilson NM1,2.
OBJECTIVES: To determine whether statin use alters response of 25-hydroxyvitamin D (25(OH)D) level to vitamin D treatment.
DESIGN: Pooled analysis.
SETTING: Three double-blind randomized controlled trials that tested different doses of vitamin D.
PARTICIPANTS: Participants of three trials (N = 646; mean age 76.3 ± 8.4, 65% female).
MEASUREMENTS: In all three trials, 25(OH)D status and statin use were assessed repeatedly over time (baseline, 6 and 12 months). Repeated-measures analysis was used to compare 25(OH)D response to vitamin D treatment at baseline and 6 and 12 months of statin users and nonusers, controlling for age, sex, body mass index, Charlson Comorbidity Index, vitamin D dose, trial, and season.
RESULTS: At baseline, 17.5% were statin users, and 65% were vitamin D deficient (25(OH)D < 20 ng/mL). Baseline 25(OH)D levels did not differ significantly between groups at baseline (18.8 for statin users, 17.2 ng/mL for nonusers, P = .07), but according to the longitudinal analyses, the total increase over 12 months in 25(OH)D concentration was significantly lower in statin users (13.1 ng/L) than nonusers (15.9 ng/mL; 21.4% difference; P = .009).
CONCLUSION: Of persons aged 60 and older at high risk of vitamin D deficiency, statin users had a 21.4% smaller increase in 25(OH)D serum concentrations over time than nonusers, independent of vitamin D dose and other covariates.
PMID: 28240766 DOI: 10.1111/jgs.14784 Publisher will rent the PDF for $6
---
Do statins increase the level of vitamin D in the blood in the short term?
Question: Is this a direct effect, or is it due to statins reducing cholesterol, which is needed to produce vitamin D from the skin, but cholesterol is not needed if the vitamin D is taken as a supplement
Some people appear to think that vitamin D could serve the same function as statins at much lower cost and much lower risk
Note: one statin is the top selling US prescription drug - with more sales than the next two top-selling drugs


See also Web
Evidence shows Calcium supplementation is useless for the bones and dangerous for the heart MINA Nov 2016
"excess calcium in their coronary artery and who take statins have a 17-fold higher risk of heart attacks than do those with lower arterial calcium levels"
New York Times Article March 2012
About 1 in 200 on statins get diabetes
about 4 in 200 on statins do not get heart attack (if not had one before)
with 200 million taking statins in the US this amounts to 200,000 more people getting diabetes
New statin guidelines: Everyone 40 and older should be considered for the drug therapy Nov 2016
The U.S. Preventive Services Task Force as reported by Washington Post
"The new guidelines, published in JAMA, suggests that people ages 40 to 75 who have one or more risk factors — such as high cholesterol, high blood pressure, diabetes or smoking that put them at a 10 percent or greater risk of having a heart attack or stroke in the next 10 years — should be on statins"
FDA warning Feb 2012 Statins associated with"
Diabetes, *Muscle loss, *Memory loss
Consumer Alert: 300+ Health Problems Linked To Statin Drugs Green Medical Information April 2012
[https://articles.mercola.com/sites/articles/archive/2019/07/10/statins-double-diabetes-rates.aspx?utm_source=dnl&utm_medium=email&utm_content=art3&utm_campaign=20190710Z1&et_cid=DM299878&et_rid=659230945|Statins double diabetes rates] Mercola July 2019
Do YOU Take Any of These 11 Dangerous Cholesterol Drugs? Mercola Aug 2012

over 900 studies proving adverse effects of statins. If You Take Statins, You MUST Take CoQ10
appropriate sun exposure normalizes your cholesterol levels and prevents heart disease

The Many Health Benefits of Coenzyme Q10 and Ubiquinol Mercola June 2016
Some people do not have the gene which turns CoQ10 into Ubiquinol - interview with transcript
Can Red Yeast Rice Supplements Help Manage Your Cholesterol Levels? Mercola Feb 2018

Red yeast rice has fewer side effects that statins

Enhancement of vitamin D levels by statins Endocine conference June 2013
Patients who were taking statins were significantly more likely to have vitamin D levels at or above 30ng/ml (X2=5.5, p=0.02) than patients not on a statin
Low vitamin D levels associated with statin induced muscle pain Vitamin D Council] March 2013
PLOS ONE free full-text study; 21% more likely if low vitamin D
Cholesterol drug users may use pills as a license to overeat April 2014
US statin users were eating about the same number of calories as non-users by 2009-2010.
Statins: proven and associated harms May 2014 details, with RCT references
Vitamin D status modifies the association between statin use and musculoskeletal pain: a population based study Jan 2015
2X more likely to have pain with statin if vitamin D <15 ng
Statins May Dampen Response to Flu Vaccine
New York Times Nov 2015 - no mention of vitamin D
A Systematic Review and Meta-analysis of 7 Studies with 2416 Patients 2014
statin-induced myalgia associated with -9.4 ng less vitamin D (7 studies, 2400 people - see table below

Statins & Muscle Pain Dean - April, 2016
Comment on Medscape article on Statins
75% of those over 50 years old will be on statins!
10–20% have reported muscle-related side effects – pain and/or weakness
She recommends Magnesium
Double blind RCT with/without Statins - no change in reporting of pain Lancel May 2017
PDF costs $31.50
See also Vitamin D Council behind a paywall
Did you know: Statins raise vitamin D levels
. .market for statins nearly tripled when the National Cholesterol Education Program (NCEP) revised its guidelines to recommend statins as primary prevention.
Lancet had an article about the recommendation: Are lipid-lowering guidelines evidence-based?" Lancet 369 (9557)
8 of the 9 doctors on the NCEP panel were discovered to have been paid by statin manufacturers
7 out of 8 studies later found that Statins raised levels of vitamin D
30% fewer headaches if take statins Jan 2015

Vitamin D Life expects that Vitamin K2 could decrease the above side effects of statins
---
Vitamin D reduces Statin pain - review April 2019
Vitamin D Supplementation to Treat Statin-Associated Muscle Symptoms: A Review.
Sr Care Pharm. 2019 Apr 1;34(4):253-257. doi: 10.4140/TCP.n.2019.253..
Lowe K, Kubra KT, He ZY, Carey K.
For the past 15 years, cardiovascular disease (CVD) has been the leading cause of death for both men and women in the United States and worldwide. With an aging population, there has been increasing use of statin therapy to reduce the risk of CVD. However, statin-associated muscle symptoms (SAMS) remain an obstacle to this treatment, leading to discontinuation and nonadherence to statin therapy. Signs and symptoms of SAMS include muscle pain, tenderness, and increased serum creatine kinase. Despite the idiopathic pathophysiology of SAMS, some studies have shown an association between vitamin D deficiency and SAMS; the use of vitamin D supplements can lead to relief of these symptoms. The purpose of this review was to critique evidence for the association between low serum vitamin D and SAMS and the use of vitamin D supplementation for treatment.
---
Benefits of Chocolate on the heart and all cause mortality (vs statins) - 2012
Green Med Info April 2012
Great many health benefits of chocolate documented -
Regarding just the heart: Chocolate appears to be better than statins.
---
If you're going to tell a healthy person to take a medicine every day for the rest of their life, you should have really good data that it's going to make them better off,
statins didn't prevent healthy women from having their first heart attacks and didn't save lives.
Women who are healthy derive no benefit from statins, and even those women who have established heart disease derive only half the benefit men do.
The drugs have long been known to cause muscle pain in some people and, more rarely, liver and kidney damage, as well as cognitive side effects like memory loss and confusion
postmenopausal women who took part in the Women's Health Initiative were much more likely to develop diabetes if they took statins, and diabetes itself increases the risk of heart disease considerably.

Summary by Vitamin D Life: No proof that statins helps healthy women, but there is proof that statins harms them
Statin Health problems - GreenMedInfo - 2015, 2019
nothing about vitamin D
2019 update
| | | |
| --- | --- | --- |
| Muscle damage 80 studies | Nerve damage 54 studies | +Liver damage 32 studies |
| Endocrine disruption: 16 studies | Cancer-promoting: 9 studies | Diabetes-promoting: 8 studies |
| Cardiovascular-damaging: 15 studies | Birth defect causing 11 studies | |
The JUPITER trial of Crestor vs placebo resulted in increased fatal heart attacks in the treatment group which were obscured by combing fatal and nonfatal infarctions.
The HPS study has 26% drop out rate prior to the beginning of the trial, so that those with significant side effects were functionally excluded from the study.
In at least four trials, statistically significant increases in cancer incidence was found, and handily dismissed by all authors as insignificant because they claimed "no known potential biological basis" is known.
A low serum cholesterol level has also been found to serve as a biological marker of major depression and suicidal behavior,
suicidal ideation among adults with mood disorders was more than 2.5-times greater in those taking statins
"So, the next time you hear of a doctor recommending a cholesterol-lowering intervention, tell him you'll take that 1% risk and spare yourself cancer, cognitive dysfunction, myopathy, and diabetes"
Aug 2016 Video Statin Drugs Linked to 300+ Adverse Effects
---
If you really must take statins and they cause pain, vitamin D will relieve the pain - 2015
Statin Intolerance Because of Myalgia, Myositis, Myopathy, or Myonecrosis Can in Most Cases be Safely Resolved by Vitamin D Supplementation March 2015
50,000 or 100,000 IU of vitamin D2 per week relieved statin pain
&nbspDownload the PDF from Vitamin D Life
ConsumerLabs has a nice summary of this as well as many other vitamin D studies behind a subscription paywall
Their paywall is very much worth the price. They review a huge number of supplements
I have subscribed for over a decade
80% of the people who should take statins have decided not to (TOO many side effects?) - 2015
Statins associated with low vitamin D - Dec 2015
Statin therapy and Vitamin D
Int J Basic Clin Pharmacol. 2015; 4(6): 1113-1117doi: 10.18203/2319-2003.ijbcp20151342
Arunkumar Radhakrishnan, A. Ruckmani, M. Abishek, S. Govindaraju.
Background: Statins are well-known drugs used in dyslipidemia and cardiac disorders since several years. Recently, it has been reported that long-term use of statins reduce serum vitamin D level. When statins are administered to patients with low vitamin D more muscular side effects have been reported. On the contrary, a few studies report that statins might increase vitamin D level competing with its metabolism. Hence, this study was conducted to evaluate the association between statins and vitamin D.
Methods: 125 participants who fulfilled the selection criteria were enrolled in the study. 65 subjects belonged to control group and 60, statin group. The blood sample was collected for Vitamin D estimation. The results were correlated with a demographic profile, nature of statin and the muscular side effects and compared with control group.
Results: The mean vitamin D level in statin group was 15.82 ng/ml±11.51 and 20.57 ng/ml±7.007 in the control group. The difference was found to be statistically significant. 13.85% in the control group and 10% in statin group had sufficient vitamin D level. 18.33% and 36.92 % had insufficient levels and 71.67% and 49.23% had a deficiency in the statin and control groups respectively. Myalgia was reported by 30 among 60 subjects (50%) in statin group and 5 among 65 subjects (7.69%) in the control group.
Conclusion: The present study has shown that statin therapy is associated with low vitamin D level and that this could contribute to the increased incidence of myalgia in the statin group.
&nbspDownload the PDF from Vitamin D Life
---
Statin intolerance ==> statin tolerance after add lots of vitamin D - March 2016
ID: 86: SAFETY OF 50,000-100,000 UNITS OF VITAMIN D3 PER WEEK IN VITAMIN D DEFICIENT, HYPERCHOLESTEROLEMIC PATIENTS, WITH STATIN INTOLERANCE
Journal of Investigative Medicine
V Jetty, G Duhon, P Shah, M Prince, K Lee, M Goldenberg, A Kumar, CJ Glueck, P Wang
DOI: 10.1136/jim-2016-000120.39 Published 22 March 2016
Background In ∼85–90% of statin intolerant patients, vitamin D deficiency (serum 25 (OH) D <32 ng/ml) is a reversible cause of statin intolerance, usually requiring 50,000 to 100,000 units of vitamin D/week continuously to normalize serum vitamin D, and thus successfully allow reinstitution of statins which previously could not be tolerated because of myalgia-myositis.
Specific Aim In 274 statin intolerant patients, all with low entry serum vitamin D (<32 ng/ml, median 21 ng/ml), we assessed safety and efficacy of vitamin D supplementation (50,000–100,000 units/week) over treatment periods of 3 months (n=274), 3 and 6 months (n=161), 3, 6, and 9 months (n=58), and 3, 6, 9, and 12 months (n=22).
Results In the 385 patients with 3 month follow-up, taking mean 61,000 and median 50,000 IU of vitamin D3/week, median serum vitamin D rose from 20 to 42 ng/ml (p<0.0001); vitamin D became high (>100 ng/ml) but not toxic-high (>150 ng/ml) in 4 patients (1.0%) (101, 102, 106, 138 ng/ml). Median serum calcium was unchanged from entry (9.6 mg/dl) to 9.6 at 3 months. On vitamin D supplementation, the trend of change in serum calcium from normal-to-high or from high-to-normal did not significantly differ (McNemar S=1.0, p=0.32), and there was no significant trend in change of the calculated glomerular filtration rate (eGFR) from entry to follow-up (McNemar S=2.6, p=0.11).
In the 161 patients with 3 and 6 month follow-up, taking mean 67,000 and median 50,000 IU of vitamin D3/week, median entry serum vitamin D rose from 21 to 42 to 44 ng/ml (p<0.0001), serum vitamin D was high (>100 but <150 ng/ml) in 2 patients at 3 months (1.2%, 101, 102 mg/ml) and in 3 (1.9%) at 6 months (101, 140, 140 ng/ml). Median serum calcium was unchanged from entry (9.7 mg/dl), at 3 and 6 months (9.7, 9.6 mg/dl, p>0.05). On vitamin D supplementation, the change in serum calcium from normal-to-high or high-to-normal was no significant trend (McNemar S=0.7, p=0.41), and no trend in change of eGFR (McNemar S=1.3, p=0.26).
In the 58 patients with 3, 6, and 9 month follow-up on mean and median 71,000 and 100,000 IU of D3/week, median entry vitamin D rose from 20 to 37, 41, and 44 ng/ml (p<0.0001), with 1 (1.7%, 102 ng/ml), 2 (3.5%, 140, 140 ng/ml), and 0 (0%) patients high. Median serum calcium was unchanged from entry, median 9.7, 9.8, 9.6, and 9.6 mg/dl. On vitamin D supplementation, the trend of change in serum calcium from normal-to-high or high-to-normal was not significant (McNemar S=1.8, p=0.18), and no trend in change of eGFR (McNemar S=2, p=0.16).
In the 22 patients with follow-up at 3, 6, 9, and 12 months on mean and median 70,000 and 75,000 IU of D3/week, median serum vitamin D rose from 20 to 37, to 41, to 44, and to 43 ng/ml (p<0.0001), with 1 (5%, 102 ng/ml) high, 2 (9%, 140, 140) high, 0 (0%) high, and 1 (5%, 126 ng/ml) high. Serum calcium was unchanged, median at entry 9.6, and then at 3, 6, 9, and 12 months 9.7, 9.7, 9.5, and 9.7 mg/ml. At entry serum calcium was normal in 21, none high, and one became high at 12 month follow-up. The trend of change in eGFR was insignificant, McNemar S=1.0, p=0.32.
When serum D rose above 100 ng/ml in the few cases, as above, it fell into the normal range within 2 weeks by reducing the vitamin D dose by 50%.
Conclusions When 50,000–100,000 units of vitamin D/week are given to reverse statin intolerance in statin-intolerant patients with low entry vitamin D (<32 ng/ml), it appears to be safe over up to 1 year follow-up, without toxic high serum vitamin D levels >150 ng/ml, and levels rarely >100 ng/ml, and without changes in serum calcium or eGFR.
- - - -
A study has the same conclusion later in 2016
Rechallenging Statin Therapy in Veterans With Statin-Induced Myopathy Post Vitamin D Replenishment
41% tolerated their previously failed statins after taking vitamin D; free PDF is online
---
Atorvastatin decreases D levels via CPY3A4; parvastatin increases D levels via CYP27A1 - 2016
The mechanism of statin-induced modulation of vitamin D metabolism Sept 2016
Behind $36 paywall http://dx.doi.org/10.1016/j.atherosclerosis.2016.07.224
---
Those with Statin pain were 3 times more likely to have levels of low vitamin D – Nov 2016
Impact of Vitamin D Status on Statin-Induced Myopathy
J of Clinical and Translational Endocrinology DOI: http://dx.doi.org/10.1016/j.jcte.2016.11.002
Krista D. Riche, Justin Arnall, Kristin Rieser, Honey E. East, Daniel M. Riche
&nbspDownload the PDF from Vitamin D Life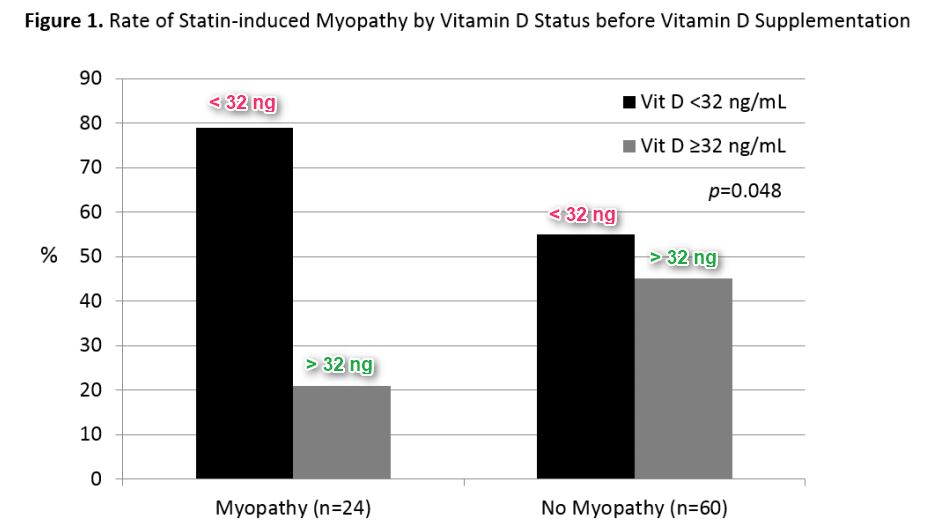 Highlights
•Vitamin D status plays an important role in the consideration of statin-induced myopathy.
•Correction of vitamin D deficiency ( 20 ng/mL) can improve statin tolerance rates.
---
15% more likely to continue to take statins if have monthly 100,000 IU Vitamin D supplement - RCT April 2018
Effects of vitamin D supplementation on adherence and persistence with long-term statin therapy: Secondary analysis from the randomized, double-blind, placebo-controlled ViDA study
Atherosclerosis, online 7 April 2018, https://doi.org/10.1016/j.atherosclerosis.2018.04.009
Zhenqiang Wua, Carlos A. Camargo Jr.b, Kay-Tee Khawc, Debbie Waayera, Carlene M.M. Lawesa, Les Toopd, Robert Scragga, ,
Highlights
•Long-term use of statins lowers cholesterol and prevents cardiovascular disease.
•Adherence to taking statins is compromised by adverse-effects such as myalgia.
•Adherence and persistence to statins use was assessed in a vitamin D trial.
•Monthly vitamin D3 supplementation improved persistence in taking statins.
Results: Overall, 2494 participants were on long-term statins at follow-up (vitamin D = 1243, placebo = 1251). Compared with placebo, monthly vitamin D supplementation did not improve the proportion with adherence (risk ratio: 1.01, p=0.62), but improved the persistence probability of taking all statins after 24 months (hazard ratio: 1.15, p=0.02). In further analyses, significant differences were observed in the adherence to simvastatin, the first-line statin therapy.
Conclusions: Monthly vitamin D supplementation improved persistence with taking statins over a 24-month measurement period in older adults on long-term statin therapy, especially for participants on simvastatin. The role of vitamin D supplementation as an adjunct therapy for patients on long-term statins merits further investigation.
---
Four of the papers in that issue (Free online PDFs)
What to Believe and Do About Statin-Associated Adverse Effects
Statins for Primary Prevention in Older Adults - Uncertainty and the Need for More Evidence
Evolving Approaches for Statins in Primary Prevention- Progress, but Questions Remain
Statins for Primary Prevention - The Debate Is Intense, but the Data Are Weak
"The evidence for treating asymptomatic persons with statins does not appear to merit a grade B or even a grade C recommendation."
"Benefits of any preventive therapy accrue according to risk of disease (greater benefit in higher-risk patients), the harms of therapy usually distribute equally overall risk levels. Thus, persons at low risk have little chance of benefit but equal chance of harms and thus are more likely to have a net harm."
"Other studies have estimated that closer to 20% of statin users have muscle problems."
"The decision aid [available from the Mayo Clinic website] shows that of 100 people who take a statin for 5 years, only 2 of 100 will avoid a myocardial infarction, and 98 of the 100 will not experience any benefit."
"At the same time, 5 to 20 of the 100 will experience muscle aches, weakness, fatigue, cognitive dysfunction, and increased risk of diabetes."
"The rate of statin use for primary prevention among persons older than 79 years had increased from 8.8% in 2000 to 34.1% in 2012."
The number needed to treat is 244 for the target group and is much worse for younger, women, and elderly
Dr. Grimes comment on JAMA and BMJ Statin studies
Dr.Grime's blog post on the JAMA articles - he has been outspoken about Statins problems and the importance of Cholesterol for many years.
Comment by Dr. Grimes on BMJ 2016 study of Statins Jan 2017
10-year study of statins in Europe concluded: "…. the apparent lack of association we observed between CHD mortality and statin utilisation …."
Very small benefit to taking statins - and only to those who had heart problems - June 2017
"Soon after the height of the epidemic in 1970–1980, there was a reduction of deaths in those who received statins, in WOSCOPS from 4% deaths at five years in controls to 3% in those treated. This means that just one man in 100 without a history of CHD who took (prava)statin for five years did not die.
Statins are of no value in the elderly - Blog post Sept 2017
[http://www.drdavidgrimes.com/2017/09/statins-are-of-no-value-in-elderly.html|Dr. Grimes blog post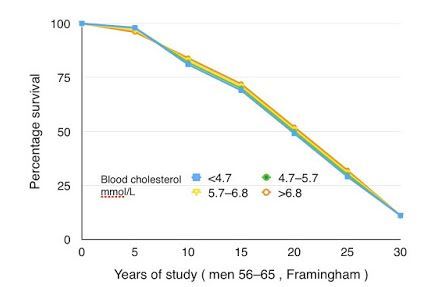 ---
Red yeast rice as good a statins (RCT May 2017) - without the side effects
Red yeast rice induces less muscle fatigue symptom than simvastatin in dyslipidemic patients: a single center randomized pilot trial.
&nbspDownload the PDF from Vitamin D Life
Good Review of Red Yeast Rice supplements by ConsumerLabs - June 2017
Consumer Labs found a 300 to 1 range in the active ingredient between the supplements
Nature's Plus and HPF Cholestene had good amounts
---
Statins were initially developed to be antibiotics, later it was noticed that statins reduce cholesterol
---
Magnesium is better than statins in many ways - 2004
Comparison of mechanism and functional effects of magnesium and statin pharmaceuticals
Chart from Grassroots Health 2019


102 references to the 2004 study as of Aug 2019
&nbspDownload the PDF from Vitamin D Life