Did you know?
Conception is much more successful if BOTH female and male
have adequate amount of vitamin D (> 30 ng)
Testosterone levels are proportional to vitamin D levels - up to about 50 ng
Infertility is higher in groups with low vitamin D - such as people with dark skins
(More Fertility/Sperm info below)
Learn how Vitamin D is essential for good health
Watch a 5 minute video "Does Less Sun Mean more Disease?"
Browse for other Health Problems and D in left column or here
see also Supplementing and More in the menu at the top of every page
If you have a disease associated with low Vit D take Vit D
Raising your Vit D levels will substantially prevent other low-Vit D health problems
Often your specific health problem will also be treated
109
items in Fertility or Sperm in Vitamin D Life
See also
Overview Women and Vitamin D
Overview Pregnancy and vitamin D Fertility and Vitamin D – several articles
Endometriosis
Ensure a healthy pregnancy and baby - take Vitamin D before conception
Search Vitamin D Life for IVF OR "IN VITRO FERTILIZATION" 345 items as of Sept 2019
Search Vitamin D Life for "Assisted reproduction" 177 items as of Sept 2019
Search Vitamin D Life for "polycystic ovary syndrome" OR PCOS" Sept 2019
Search Vitamin D Life fore Testosterone 77 items just in webpages as of Sept 2020
Search Vitamin D Life for "erectile dysfunction" 120 items as of July 2018
Conception and vitamin D snapshot as of 2012
Vitamin D greatly improves Fertility
Increased male Vitamin D increases fertility
Items in both of the categories Intervention AND Fertility/Sperm
---
---
Clinical trial of 50,000 IU vitamin D weekly to improve IVF success - Phase 4 trial announced July 2017
Vitamin D Supplementation in Vitamin Deficient Women Undergoing IVF Cycles: Does it Affect the Fertility Outcome?
Unfortunately trial is only giving vitamin D to the women, and for only 2 months
They will be measuring results over the next 12 months
Doubt that this clinical trial will be successful
50,000 IU bi-weekly to both man and woman during an entire year would have had far better success.
---
50% reduction in sperm count around the world in just 40 years - Aug 2017
Skyrocketing Male Infertility May Threaten Mankind's Survival - Mercola
"According to the largest meta-analysis of its kind, sperm counts around the world declined by more than 50 percent, to 47 million sperm per mL, between 1973 and 2013, and continue to dwindle"
"The most significant declines were found in samples from men in North America, Europe, Australia and New Zealand, where many had sperm concentrations below 40 million/mL — a level at which a man will have trouble fertilizing an egg"
Vitamin D was barely mentioned
---
Eating more fish (probably Omega-3 and Vitamin D) resulted in a 16% increase in babies - May 2018
Survey of 501 couples, New York Times
Reportingo n study in Journal of Clinical Endocrinology and Metabolism https://doi.org/10.1210/jc.2018-00385
"By 12 months, 92 percent of couples who ate fish twice a week or more were pregnant, compared with 79 percent among those who ate less."
---
IVF 2X more successful in summer (when vitamin D levels are higher) - July 2018
IVF treatment success rate doubles in summers
---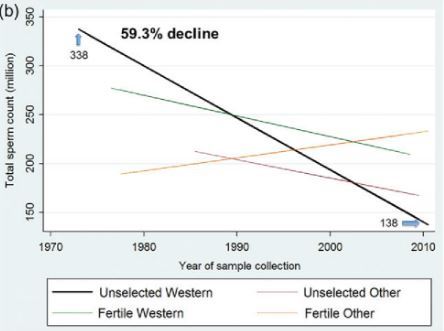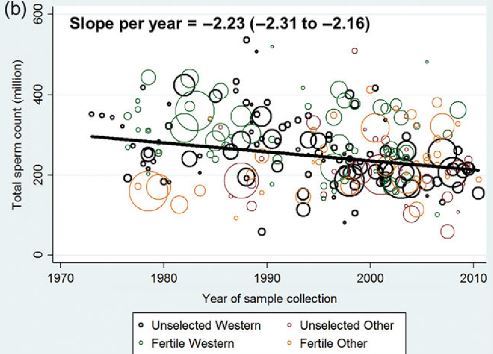 ---
RCT of Vitamin D and Fertility - daily for a year - to 16 weeks after birth
This data disagrees with a majority of studies on this page
| | | |
| --- | --- | --- |
| | Became pregnant | Complications |
| Placebo | 38% | 52% |
| 1400 IU | 33% | 23% for 1400 and 2800 IU |
| 2800 IU | 39% | |
Statistical certainty of the percentages was not given in the abstract
"Complications during labor, including preeclampsia and postpartum bleeding, were significantly more frequent in the placebo group compared with the combined treatment groups (52% versus 23%, P=0.005)."
"The study found no difference in other complications including pre-term birth, miscarriage, gestational diabetes, and infections"
No comment on any differences in Still Births, Death during first year, etc.

Wonder if mothers getting lots of vitamin D had more alive and healthy children at the one year mark compared to placebo
---
Why Are Young People Having So Little Sex? Nov 2018
The Atlantic Vitamin D is not mentioned
"...Americans are in the midst of a sex recession"
"...crushing economic pressures, of surging anxiety rates, of psychological frailty, of widespread antidepressant use, of streaming television, of environmental estrogens leaked by plastics, of dropping testosterone levels, of digital porn, of the vibrator's golden age, of dating apps, of option paralysis, of helicopter parents, of careerism, of smartphones, of the news cycle, of information overload generally, of sleep deprivation, of obesity. Name a modern blight, and someone, somewhere, is ready to blame it for messing with the modern libido?
---
It's surprisingly common for men to start losing entire chromosomes from blood cells as they age
"Now a new study—the largest yet of this phenomenon—estimates that 20 percent of 205,011 men in a large genetic database called the UK Biobank have lost Y chromosomes from some detectable proportion of their blood. By age 70, 43.6 percent of men had the same issue."
No mention of Vitamin D